Jen and Brad have had a successful award season, and tonight, both took home SAG awards for their roles in Morning Wars and Once Upon A Time in Hollywood respectively. The season has led them to spending more time together than usual , leading rumours to swirl of a possible rekindling of their romance,
The pair were married from 2000-2005 and are known to be amicable… or, as of late, maybe more. On The night of the Golden Globes, Brad told Entertainment Tonight, when asked if they will hang out at the ceremony: "I'll run into Jen, she's a good friend. Yeah."
But tonight, when Jennifer won her SAG award for Morning Wars, Brad was far from aloof. He was spotted waiting backstage, watching the screen, beaming with pride.
Another look at Brad Pitt watching Jennifer Aniston winning her statue for #TheMorningShow at the #SAGAwards pic.twitter.com/Wg6vQm8Q1z

— The Hollywood Reporter (@THR) January 20, 2020
When accepting his award, Brad gave a laugh-packed speech referencing the similarities between his Once Upon A Time In Hollywood character, Cliff Booth, and his own life story.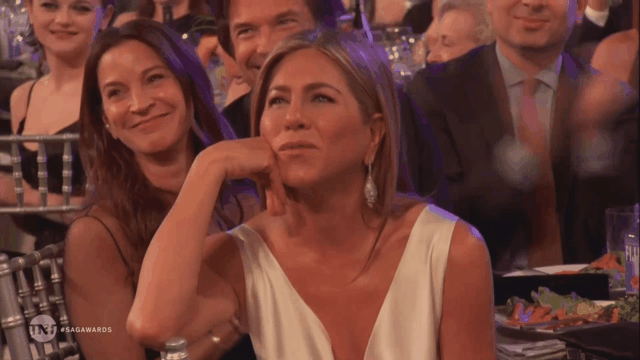 "Let's be honest. It was a difficult part," he jested. "A guy who gets high, takes his shirt off and doesn't get on with his wife. It was a big stretch." As he paused for laughter, the camera landed on Jen, who met it with a knowing smile and clap.
After the awards, the two had a seemingly affectionate reunion backstage. Laughing and grabbing at each other, the famous exes only fueled rumours that they could be back together. As Jennifer went to leave, she put a hand on his chest and Brad held her wrist a moment, as if to pull her back. It was a very flirty and playful scene.