They're the flirty backstage photos that took the internet by storm. Now, the photographer, Emma McIntyre, gives all the details on what really went down between Jennifer Aniston and Brad Pitt.
When the pictures of Jen and Brad, reuniting backstage at the SAG Awards, were released, social media exploded with rumours of them finally reigniting their romantic relationship.
Suddenly everyone was throwing themselves head-first into late 1990s nostalgia – if Brad and Jen get back together, everything will go back to how it was in 1999, right?
But, how much can we really know from a picture? Emma McIntyre, the photographer that documented the famous moment that the exes met backstage at the SAGs, spoke to People Magazine about scene that she witnessed.
"[Brad Pitt and Jennifer Aniston were both backstage] doing the circuit of awards press," she told the US publication.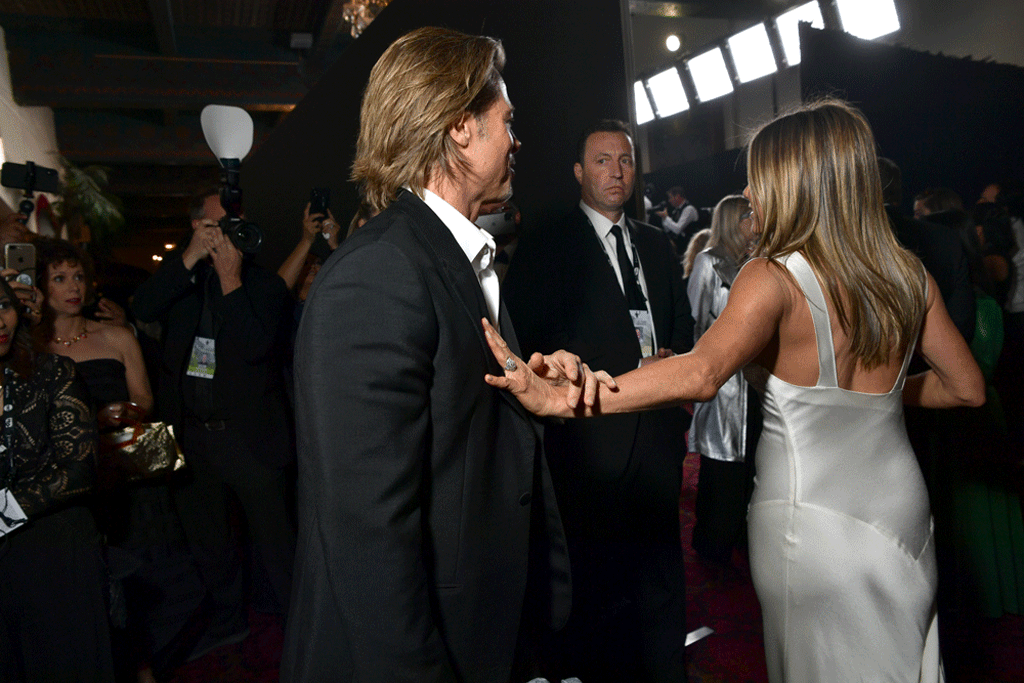 "Jennifer had just signed some posters for SAG and was about to walk the press line. I was running back and forth between the two backstage areas and had just taken some photos of Jennifer. I was about to leave when I saw Brad coming down the hallway and sensed there would be a photo-worthy moment."
Emma continues, "He called out 'Aniston!' and she turned around and they embraced and congratulated each other. It was a moment of two accomplished people at the top of their game, acknowledging each other's successes and genuinely seeming happy to see one another…."
So, it seems that Emma McIntyre believes the infamous hand touch was nothing but congratulatory and professional. That said, she does not seem to think that it was devoid of emotion.
"The moment was really touching, and you could sense the respect between two people who have known each other 20-plus years and are both outstanding in their field."